Introduce SIM Card Service for Russia
DATA PLANS FOR GPS TRACKER
--- Data for use in Rusia. ---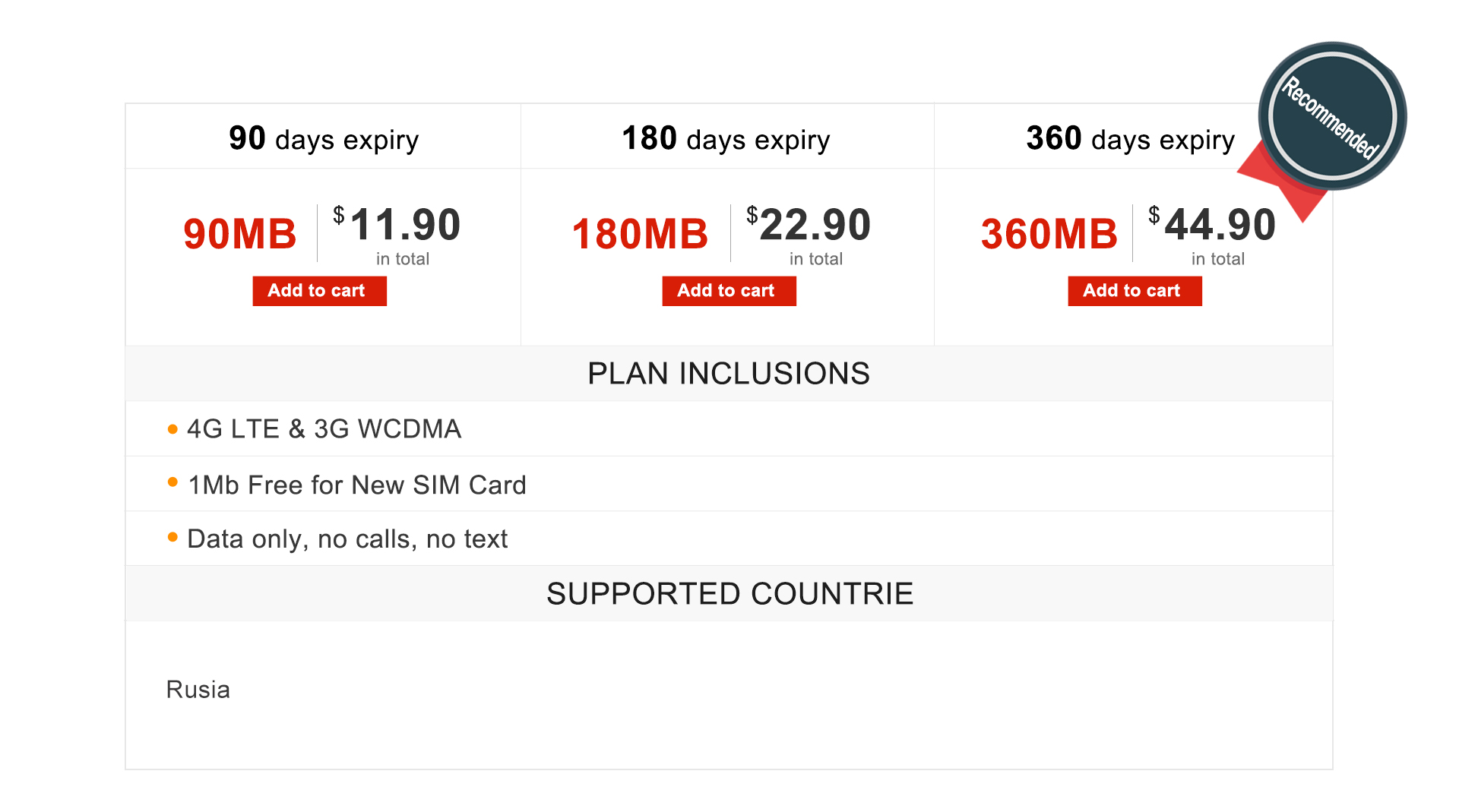 Product details
Why you need a Prepaid Data Only SIM Card?
★ a. Most of GPS trackers require a SIM card to remotely communicate with these devices.
★ b. We've partnered with global mobile operators to offer a unique set of plans designed specifically for our GPS tracker devices.
★ c. Our 3-in-1 SIM Card is Triple Cut to fit any GPS device or smartwatch. Press out the size based on your need.
SIM Cards Features
★ 3/6/12 month SIM Only Plans for your choice (30MBs of data per month)
★ Supports 2G/3G/4G LTE Data service
★ 3-in-1 Triple Cut SIM Card that includes Standard, Micro and Nano cutout sizes.
★ 1MB free data for each new card. No Credit Check, No activation fee.
SIM Cards Compatibility
★ Any 2G/3G/4G devices
★ GPS Vehicle Trackers (cars, trucks, boats, etc..)
★ Equipment Trackers
★ Pet Tracker
★ Kid/Child/Teen GPS Trackers
★ Smart Watches & GPS Watches
★ Personal Trackers
Frequently asked questions
1. Q: How do I buy and recharge my prepaid data card?
Just click the upper picture, this website helps you in just three easy steps: Enter ICCID*, select amount, to top up.
*ICCID Number (20 digital number on the SIM Card, e.g. 89860220190911060733)
2. Q: What is in the data plan?
Only consist of prepaid data, that's to says No voice plan, No text plan.
When all prepaid data used up, it needs to buy another plan. As for unused data on the plan, it will NOT roll over to the next new plan.
3. Q: How much data do I need?
In normal, consuming data through GPS Tracker does not exceed 30M per month.
You can choose prepaid 30/180/360MB plan. People like prepaid 360MB plan for 12 months.
4. Q: Can I use the data with mobile phone?
Yes, the data can be used in the mobile phone, but it can't be shared with other phone as a hotspot.
5. Q: What about international roaming?
This plan does NOT offer international roaming service.